Morgellons Disease Now More Prevalent Than Lyme Disease In United States
Posted: Jul 24, 2018 2:53 PM EDT Updated: Jul 24, 2018 2:53 PM EDT
Morgellons Disease, once thought to be just delusional infestations, is now all too real. Studies show more people in the United States suffer from the disease than those with Lyme Disease.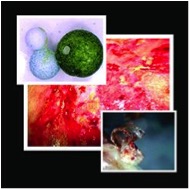 Oakhurst, United States – July 24, 2018 /PressCable/ —
What used to be considered as just a delusional infestation disease,Morgellons has now overtaken Lyme disease in the amount of cases individuals are suffering from as reported by researchers from the Mayo clinic.
The researchers have calculated that between 1976 and 2010, 27 out of 100,000 people are suffering from Morgellons Disease.
The study was conducted by researchers at the Mayo Clinic and led by Dermatologist Mark Davis as well as Aarhus University in Denmark. The findings were published in the April edition of the JAMA Dermatology Journal.
The report entitled, "Delusions Of Skin Infestations May Not Be So Rare" outlines the degree of delusional infestations affecting the population but author Richard Kuhns, B.S. CH/E. the author of "How To Get Your Life Back From Morgellons And Other Skin Parasites" has major issues with the findings in the report.
Richard states, "The researchers could be off in their estimates as they have only calculated their numbers based on the White population and have no idea how prevalent the delusions might be among other ethnic groups."
He points out that the studies have not included research from people outside the United States and how these people are affected. This means Morgellons is even more prevalent than ever before.
Another reference, this time entitled "Lyme Disease in the U.S.-Statistics and Facts" culled from from https://www.statista.com/topics/4261/lyme-disease-in-the-us/ states that 8.1 out of 100,000 (.008%) have Lyme disease. Other reports from the CDC say there are up to 300,000 new cases every year.
Richard goes on to say, "All these figures are thrown out there without the proper facts. There is no funding from the U. S. Government so these studies rely on private funding and we all know this type of money can be manipulated to back a particular point of view."
If we go by the figures made available by these organizations, the conclusion are this:
· They estimate that 3.7 times more people have delusions of skin infestations than have Lyme disease. And if there are 300.000 new cases of Lyme disease every year, that could be 1,100,000 cases of Morgellons right under their noses.
· Lyme disease has become such a big deal in the medical community. There is wide funding available and more studies have been conducted which, if their study demonstrates that Morgellons is not delusional, suddenly Morgellons would steal the lime light from Lyme disease.
· Even more disappointing, all research at this time is only aimed at legitimizing Morgellons as a disease in hope of getting the CDC to wake up and take notice.
Richard's new special report entitled, "Lyme Disease Doesn't Scare Me Anymore" lays out the facts and myths regarding Lyme Disease as well as it's relation to Morgellons. He has curated facts from around the world and is considered one of the world's foremost experts on Morgellons and skin parasites and has been writing and researching the subject since the early 1990's.
For more information about Richard's books and to arrange to have Richard speak at your next event, you can reach him at:
Tel: 732-531-1178
Email: skinparasites1@gmail.com
Contact Info:
Name: Richard Kuhns
Email: albert@getyourlifebackllc.com
Organization: Get Your Life Back LLC
Address: 259 Overbrook Ave., Oakhurst, New Jersey 07755, United States
Phone: +1-732-531-1178
For more information, please visit http://www.bestmorgellonscure.com